Rates » McCormick Ranch Golf Club (Palm & Pine)
The Palm Course gets its name from the many palm trees that line the golf course. Wide and forgiving fairways provide ease to the golfer while it's 10 water holes and large trees bring some difficulty to the course. New features and upgrades such as greens, sand traps and bridges have been built on the course to provide golfers with the best updates conditions possible. This course feels and looks like an oasis in the desert.
The Pine Course also gets its name from the trees that line this course, Pine trees. This course features more narrow and thicker tree lined fairways as opposed to its sister course. Ponds of water come into play around the greens on a few holes making this course the tougher challenge. Pine initially appears to be more of a clear-cut golf course, but beware of the hidden hazards that lurk on the course.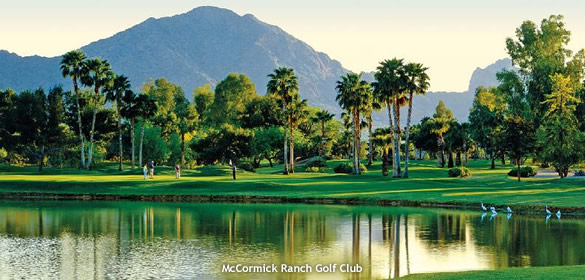 All Rates Are Per Person & Include Tax and Golf Cart
| | |
| --- | --- |
| Dates for 2018 - 2019 | Mon - Sun |
| 09/14/18 - 12/25/18 | $90 |
| 12/26/18 - 01/10/19 | $105 |
| 01/11/19 - 03/31/19 | $115 |
| 04/01/19 - 04/30/19 | $105 |
| 05/01/19 - 05/31/19 | $80 |
| 06/01/19 - 09/22/19 | $55 |
| 09/23/19 - 12/25/19 | $95 |