Arizona Golf Resorts and Hotels: Starwood Vacation Ownership
Starwood Vacation Ownerships are time share resorts that also rent nightly to the public. There are three wonderful properties to choose from:
Sheraton Desert Oasis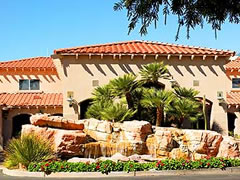 Sheraton Desert Oasis is framed by stunning sunsets and towering saguaros, you'll discover this is a remarkable place to relax and unwind. Scottsdale is renowned for world-class golf and offers dozens of championship golf courses on which to play. You'll also find many other ways to amuse yourself from attending rodeos and horse shows, museums and art galleries, bicycling and tennis, exploring the mysterious desert and more than 2,500 boutiques.
The villas at Sheraton Desert Oasis offer all the luxuries a desert home should have, including a living room with a sleeper sofa, an entertainment center and a color TV in each bedroom. All feature a fully equipped kitchen, a separate dining area and a breakfast bar with seating for two, while some may have a whirlpool bath in the master suite and a screened terrace.
Enjoy a full fitness center and swimming oasis complete with poolside bar and large mountain set in Jacuzzi. Across the way are the famous five-star Fairmont Scottsdale Princess Resort offering five restaurants and the TPC of Scottsdale Golf Club.
More Photos of Starwood Vacation Ownership
Sheraton Desert Oasis
17700 North Hayden Rd
Scottsdale, AZ 85255
1-866-218-6941
(623) 236-9164
Westin Kierland Villas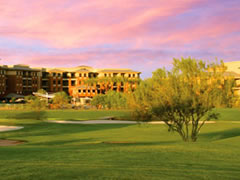 Westin Kierland Villas are located in North Scottsdale, attached to the Westin Kierland Resort & Spa. Spacious villas are made to exceed all of your vacation needs. Large balconies, granite counter tops, solid maple cabinets as well as a modern décor. All bedrooms feature a comfortable Westin Heavenly Bed with layers of refreshing down bedding and some of the world's top linens. Living rooms include an entertainment center with all the amenities. The villas are located in a more private area of the resort, perfect if you like seclusion and high-end luxury.
Relax at the on site Agave Spa & Salon offering services from massages to pedicures. Many of the products used at the spa and salon are available for purchase. Maximize your energy at the fitness center complete with nutritional programs, classes and general fitness machines.
Dine at any four restaurants on site. Enjoy shopping and delectable restaurants at the neighboring Kierland Commons just steps away from your Kierland villa. Top restaurants and boutique shops await you.
Westin Kierland Villas
15620 N Clubgate Dr
Scottsdale, AZ 85254
1-866-218-6941
(623) 236-9164
Villas at Cave Creek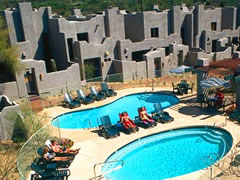 Villas at Cave Creek are located north of Scottsdale amid the beautiful Sonoran Desert. These villas are located minutes from Scottsdale's boutiques and restaurants. Offered are 25 spacious two bedroom villas secluded away from the city. Each villa offers 1,200 square feet living space, full kitchen, two fireplaces, relaxing whirlpool tub, entertainment center and a private backyard with a spa and garden. Cave Creek offers a southwestern charm and décor to each villa.
Be sure to head over to Reata Pass for Southwestern dining and nightlife. Saloons, country dancing and authentic food await you. During the day, sit by the pool and enjoy tranquil scenery accompanied by a beautiful desert background.
Villas of Cave Creek
38001 North Schoolhouse Rd
Cave Creek, AZ 85331
1-866-218-6941
(623) 236-9164