Rates » Boulders Golf Club (North & South)
The North Course is the older of the two golf courses, designed by Jay Morish this natural beauty boasts spectacular panoramic views of the southwest desert. Built right into the foothills of Black Mountain, Boulders North winds through striking boulder formations, passing wildlife and desert vegetation. From the start, fairways appear narrow; however, play more open towards the beginning of each hole.
The South Course plays a little tougher than its sister course. The fairways begin tighter off the tee box and are lined with thick desert on both sides, which requires more strategy to score well. Considered the more scenic of the two courses some of the holes play right up towards multiple boulder formations allowing for that picture perfect moment. Two of the most famous formations, "Boulder Pie" and "Rosie's Rock" will be made visible on this course. High elevation changes and well kept bent grass greens make this Arizona Golf Course a favorite amongst golfers from all over the world.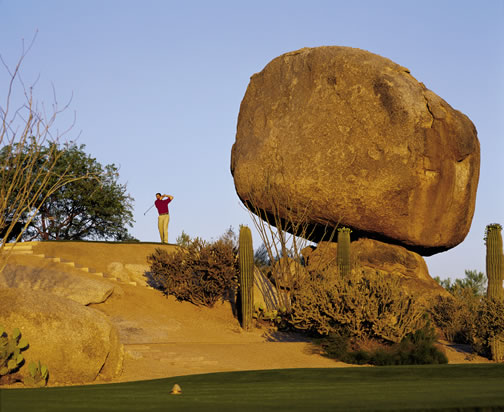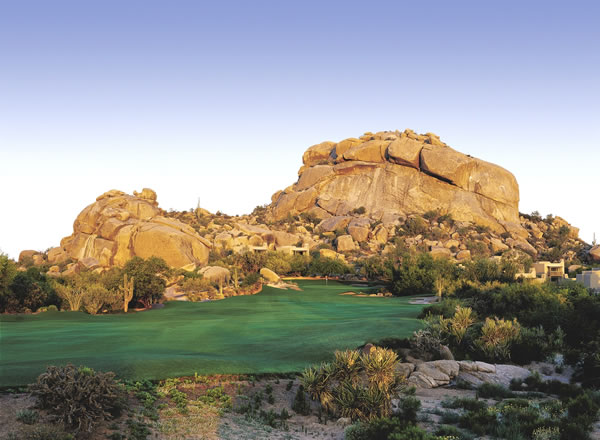 All Rates Are Per Person & Include Tax and Golf Cart

| | | |
| --- | --- | --- |
| Dates 2018 - 2019 | Sun- Thu | Fri - Sat |
| 10/27/18 - 11/18/18 | $220 | $220 |
| 11/19/18 - 12/31/18 | $180 | $190 |
| 01/01/19 - 01/17/19 | $185 | $215 |
| 01/18/19 - 01/27/19 | $235 | $280 |
| 01/28/19 - 02/03/19 | $270 | $300 |
| 02/14/19 - 04/28/19 | $235 | $270 |
| 04/29/19 - 05/19/19 | $150 | $170 |
| 05/20/19 - 09/15/19 | $70 | $80 |
| 09/16/19 - 10/06/19 | $125 | $135 |
| 10/07/19 - 10/17/19 | $205 | $220 |