Rates » Troon North Golf Club (Monument & Pinnacle)
The Monument course, designed by the team of Tom Weiskopf and Jay Morrish, is the #1 rated public golf course in Arizona and Golf Magazine has rated it #6 in the country. The course is an eccentric design of desert and target style golf that will leave you with the most picturesque memories of the surrounding foothills and of Pinnacle Peak. Troon North Golf Club has been consistently rated as one of the premier desert golf courses in Arizona.
The Pinnacle course is a tom Weiskopf design that opened in 1996. It carries a rating of #3 in Arizona and Golf Magazine has rated it #30 in the country. While it is the newest of the two courses at Troon North Golf Club, it carries the same prestige as the Mounument course, and is also one of Arizona's premier desert golf courses. Be prepared for desert golf at its best, as the breathtaking views of Pinnacle Peak and McDowell Mountains will leave you with a feeling of exhilaration.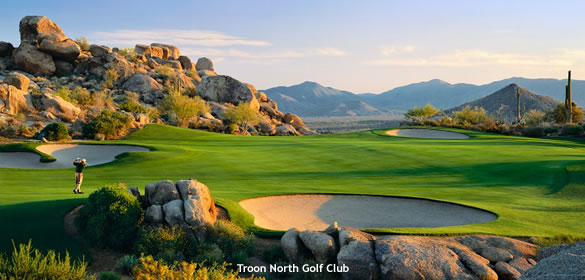 Please Call Toll Free 1-866-218-6941 for tee times for this course.